Welcome to the "Watershed Capital of Nebraska"

The Wymore Rural Water System has been repaired and is operating as normal. A boil notice remains in effect until further notice. For more information see the link below or call the NRD at 402-228-3402.
Thank you to all who have cooperated with the NRD and FSA offices to certify your irrigated acres. If you have made any changes to your irrigated acres, these changes need to be reported to the NRD. If you have not yet certified your acres, the forms are located on the "Forms" page. Please contact the NRD with any questions.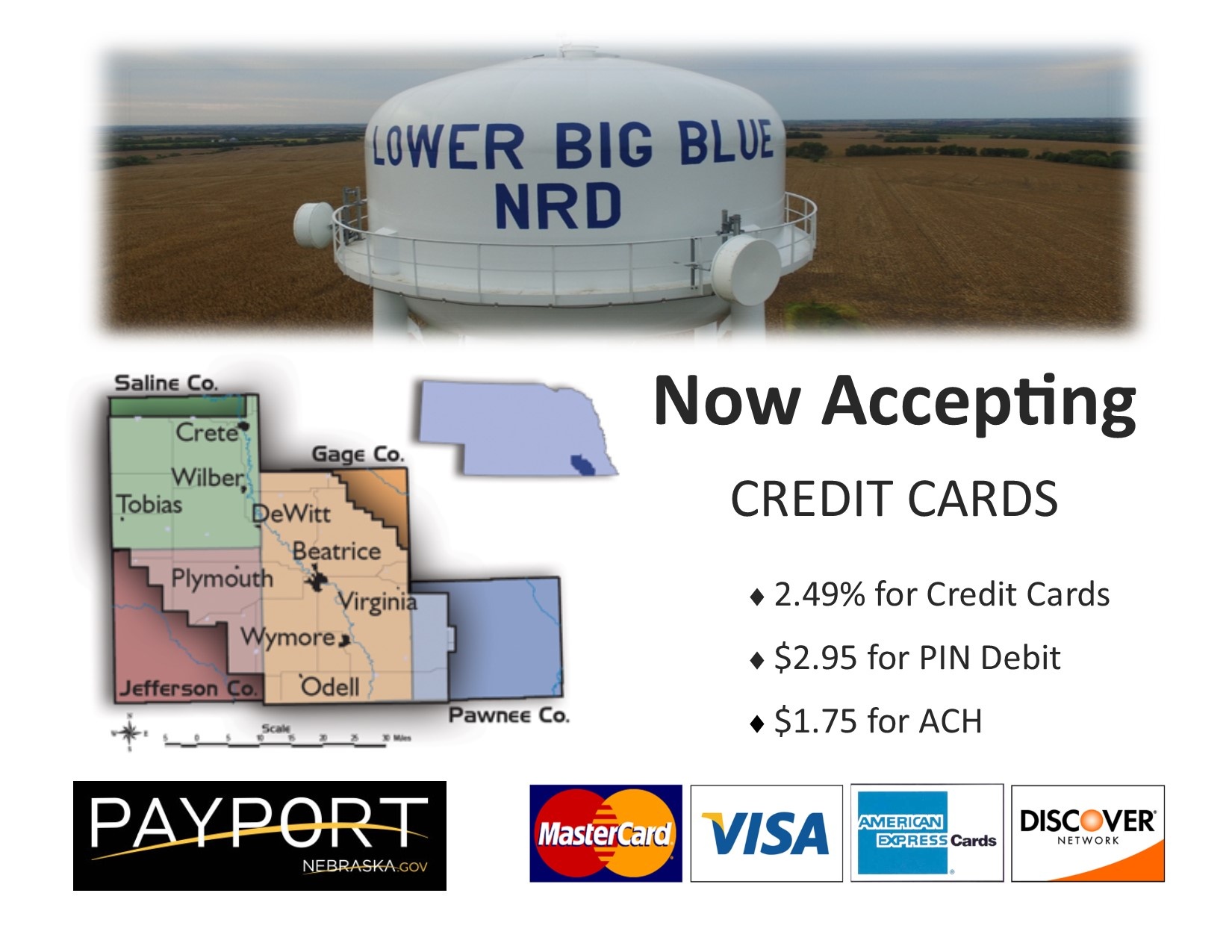 The NRD is now accepting credit cards in the office and online! Visit the "PAYMENTS" tab above to pay your bill.

Greetings from the Department of Agricultural Economics at the University of Nebraska-Lincoln (UNL). We are looking for producers to participate in a research study titled Nebraska Producers' Responses to Farm Bill Programs. If you are a crop producer 19 years of age or older, and interested in participating, please Register at the link below. The research will be conducted during Nebraska Extension sponsored Crop Production Clinics in January of 2019. If you have questions about the research project, please feel free to contact Simanti Banerjee, faculty at the Department of Agricultural Economics at any time via my email (simanti.banerjee@unl.edu). The study will not last more than two hours and you will be paid a compensation of up to $100 for your time. Participation in this study is voluntary and all information collected is confidential and anonymous. You can withdraw your registration at any time without harming your relationship with UNL or the organizers of the Crop Production Clinics.
Register: https://agronomy.unl.edu/crop-production-clinic-study-consent
-Dec. 20 - Board Meeting, 1:30PM

-Dec. 24 - Christmas Holiday, Office Closed

-Dec. 25 - Christmas, Office Closed
Subscribe to Our Newsletter!