The Lower Big Blue NRD contains 12 watersheds around the district. These watersheds contain the major streams in the district and all the tributaries that flow into the major stream. Earthen dams are strategically placed along these tributaries to provide flood prevention and soil conservation. The watersheds surround these major streams: Turkey Creek, Swan Creek, Cub Creek, Big Indian Creek, Walnut Creek, Clatonia Creek, Little Indian Creek, Bear Creek, Pierce Creek, Cedar Creek, Mud Creek, Wolf Creek, Wildcat Creek, Plum Creek, and Mission Creek.

The NRD first started planning the development of floodwater retaining structures and grade stabilization structures in the 1950s. This development also included numerous small farm ponds, terracing, and native grass seedings. Nearly 65 years later the NRD along with the NRCS continues to implement these land treatment practices for flood prevention and soil conservation.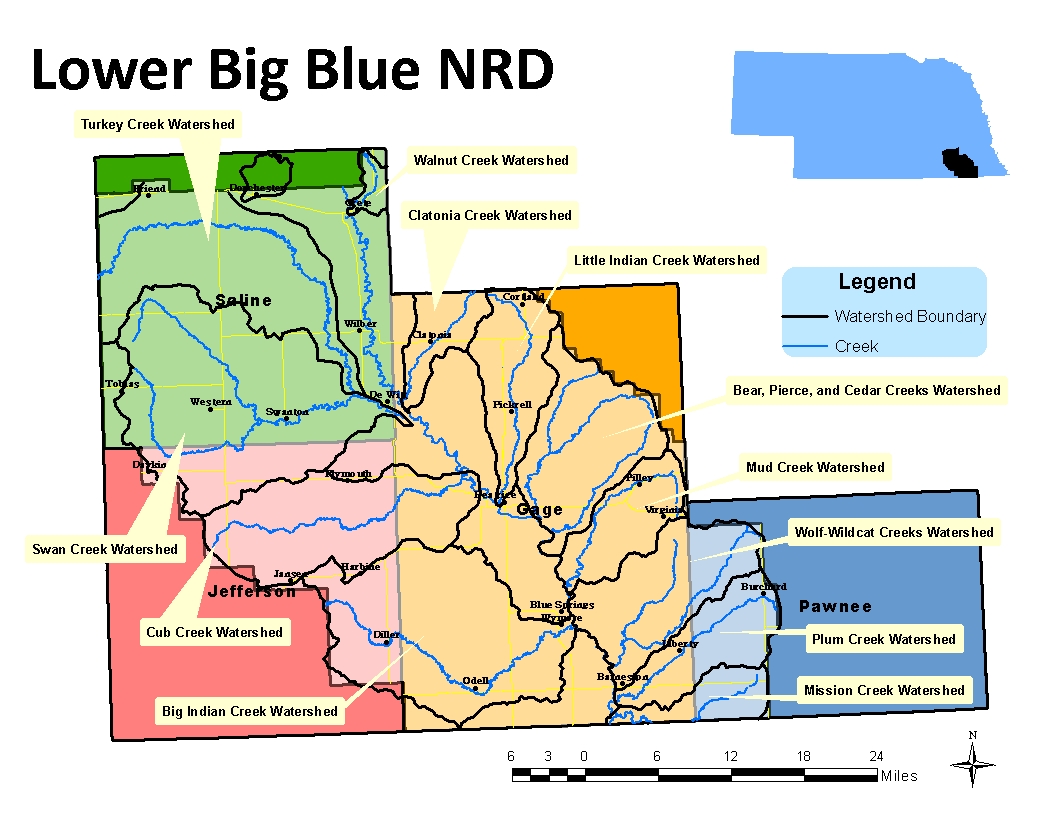 Dam Maintenance
The Lower Big Blue NRD is responsible for the maintenance and upkeep of the over than 250 flood control structures within the district. For proper functionality of these structures the NRD is asking for help from landowners. Any construction or improvements (sediment removal/fill, buildings/houses, etc.) must be approved by the NRD Board prior to starting. Emergency spillways are to be maintained unobstructed (buildings, farm equipment, hay bales, etc.). If you notice any beavers, other rodents, or anything else out of the ordinary, please notify the NRD.